How to Start a Business From Scratch: 9 Step Checklist

Dave Ver Meer · March 30, 2022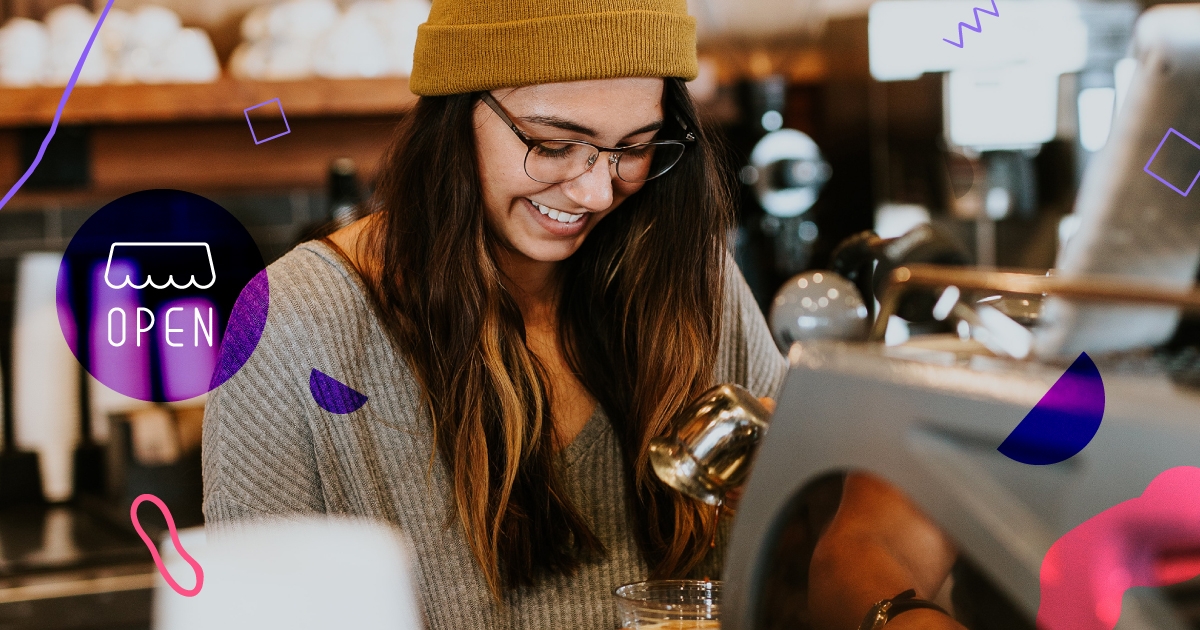 Building a business from the ground up can be a daunting task. But you don't have to do it alone, and it helps if you break it up into smaller steps. Fortunately for you, countless other entrepreneurs before you have built successful businesses. You can learn how to repeat their successes and avoid their mistakes.
Here's one of our favorite bits of advice:
"What do you need to start a business? Three simple things: know your product better than anyone, know your customer, and have a burning desire to succeed."

–Dave Thomas, Founder, Wendy's
Will you need more than that? Definitely. There are many things a small business might need, but exactly what depends on each specific industry.
Keep reading for tried and true steps that will work for any type of business. It doesn't matter if you're starting an online business and working from home or if you have a business with a brick-and-mortar location.
1. Write a business plan
The business plan will keep you on track and focused on how to run and grow your business–everything from a market analysis to how you'll manage daily operations. According to Harvard Business Review, simply creating a plan will boost your chance of success by 16%. Plus, if you need funds or a loan to get started, you'll need one to help convince others to invest.
A good rule of thumb is to make sure it covers at least the first 6-12 months of operation, and it typically includes the following:
Executive summary: This is a one-page summary of the entire plan, which is usually written last.
Company description: Outlines important details like where your business is located as well as goals.
Market research: A description of your target market, competitors, and insights into who your customers are.
Products and services: Covers the types of services and products you'll offer, along with brief descriptions and pricing.
Marketing plan: Describes the tactics and marketing channels you'll use as well as overall strategy.
Management and operations: Details about who is responsible for what and how daily operations will be handled.
Financials: A section that outlines things like starting capital, projected income, and expenses.
Business plan resources
Small Business Administration: They have a detailed business plan guide that includes examples, along with info about local assistance and funding programs.
Smartsheet: Offers a collection of free one-page business plan templates tailored to a variety of business types.
2. Choose a name for your business
This is a step you'll want to take your time on. You want a name that can stand the test of time and grow with your business. It should be a name you love and are confident about– because you'll be saying it often and it'll be that much easier to sell.
Don't stress about making it perfect and enjoy the process. The most important features of a good name are:
Memorable and unique: You want a name that customers will easily remember and it should stand out from your competitors.
Brandable: It should be something that you can build a story around and weave through your marketing creative.
Clear: In general, it's best if the name clearly communicates and makes a connection to the products and services you sell.
How do you name a business?
You can follow these key steps to get started naming your business.
Brainstorm some words: First, come up with a handful of words you might want in the name. They could be related to your business or the products. Then, use our business name generator and we'll speed things up by creating hundreds of creative name ideas using those words.
Pick the best ones: Is it memorable and does it stand out? Think about whether it's a name you can build a brand around and if it's easy to say.
Research and get feedback: Look through search engine results and get feedback from people you trust. Once you've narrowed them down even further, check what domains are available.
Once you have a final name, you should register the domain name right away. You can get great deals on domains at GoDaddy. Then claim any social profiles you plan to use for marketing.
For a deeper dive into naming your business, read our how to name a business guide.
Name resources
Knowem: Quickly search across social networks to find a username that's available.
NamePepper: Yep, we're not above shamelessly promoting our business name generator.
3. Figure out your startup costs
Knowing how much money you need to invest to start your business is critical, and it'll help you manage cash flow. You'll also discover whether or not you'll need to seek outside funding to help get your business up and running. Keep in mind that new businesses usually spend the most during their first year, with costs stabilizing after that. Every business is different, but here are a handful of expenses you should think about:
Formation fees: To form your business structure, you'll pay to have documents prepared and then a separate fee to file them with your state. You can use a local lawyer or an online legal service like LegalZoom.
Employee expenses: The main cost here will be wages and salaries, but you'll want to also factor in benefits and bonuses.
Equipment and supplies: Think through the types of supplies you'll need to run your business. You may need office furniture, computers, phones, and software depending on your type of business.
Office and retail space: Unless you're operating an online only business, this will likely be one of your biggest fixed costs. The cost will depend largely on the type of space and whether you're renting or buying.
Bills and utilities: Aside from fixed costs like rent, you'll need to pay for things like water and electricity, internet, and phone.
Insurance, licenses, and permits: It's essential to get the proper permits and make sure you have the correct types of insurance to protect your business.
Marketing: These will vary depending on your marketing plan, but consider things like business cards, website hosting, and advertising spend.
Taxes: Your tax bill will vary depending on your revenue and type of business structure. Besides federal and state taxes, there are other ones as well–like self-employment and excise taxes.
Startup cost resources
TurboTax: Offers easy-to-use tax preparation services, filing, and advice from tax experts.
IRS: Learn about types of taxes and get details about how business structure impacts taxes owed.
4. Set up your finances and get licenses
Next, you'll want to work on opening a business bank account and apply for a credit card. Remember to keep your personal and business finances separate. It'll make it easier to track the financial health of your business and streamline accounting.
You should also find out if there are any licenses you'll need to operate and government regulations you need to follow. Many businesses need licenses or permits to operate legally. A lawyer can tell you what you need and help avoid potential legal issues later on.
Loans: If you need funding, you can compare and learn more about loan types on sites like Fundera.
Bank accounts: Open a checking and savings account. You can manage payroll and other expenses in checking, and store any extra in savings to earn interest.
Credit card: Get a credit card to charge expenses on. It'll also build your business credit score since that's separate from your personal one.
Accounting: Keep track of your expenses and income throughout the year. Software like FreshBooks can do that for you, or you can hire an accountant.
Employer Identification Number (EIN): The EIN identifies your business for tax purposes and is usually needed to open a bank account. You can apply for one online.
State tax licenses: States and local municipalities may have their own taxes you need to collect when you make a sale. With a license, you can collect and submit taxes to states.
Finance resources
Novo: An online bank with no monthly fees and low requirements for opening accounts.
Fundera: Once you fill out a simple application, they help you find and compare different loans and products that fit your needs.
Chase: Offers a variety of business credit cards with sign-on bonuses, $0 annual fees, and cash back.
5. Find a location
Your business plan should give you insights into the kind of space and location you need. For a retail or service business, you'll be looking for a public location that you can either rent or buy. If you have an ecommerce or online business, you may not need any space other than your home. It's also possible to start your business from home and move to or add a separate location later on as you grow.
Location resources
LoopNet: A directory of commercial properties for lease or sale where you can search by location or type of property.
6. Get business insurance
You'll want to protect your business and personal interests with insurance coverage. There are many types and not all of them will apply to your situation. Here are some common types to look into:
General: Liability insurance that protects your business from injury claims or property damage resulting from your services and products.
Commercial: Property insurance that protects against asset losses like equipment, inventory, or furniture. It may even help recoup costs for stolen or damaged property.
Income: Insurance that covers loss of income from damage to a property that results in less sales or closing for a period of time.
Workers comp: Helps cover costs when an employee is injured on the job or becomes ill. Many states require this type of insurance.
Insurance resources
Insureon: A marketplace to compare coverage and get personalized quotes for different industries.
7. Create a brand and marketing plan
Branding is what sets your business apart, while a marketing plan provides the fuel to sustain and grow your business. You need both, and you'll want time to put your plan into motion before you launch. Here are some elements it should cover:
Marketing goals: Focus on making these measurable and time specific. Like, "Grow in-store sales by 10% each month, for the first six months after launch."
Target audiences: Take a look at your business plan and decide who you'll be focusing your marketing efforts on. Define each audience more if you can, with details like their lifestyle, hobbies, and age range.
Messaging: Think about the value of what you're selling and how to best convey that to your audience. What are the benefits? Do you want a tagline?
Strategy: Here you'll outline what you need to do. It might be, "Use unconventional offers because women in our target audience respond more to them."
Tactics: This is how you'll accomplish your strategy. Types of marketing tactics include email, direct mail, influencer, social media, and advertising.
Budget: The budget should be realistic and a general rule is that 5-10% of your revenue should go towards marketing. Until you know what your revenue is, you can base it on a percentage of the funds you have to start your business.
You should think about using AI tools. ChatGPT and the alternatives to it are fast becoming the best way to save time, while still getting the same or better quality in your marketing and branding.
Brand and marketing resources
8. Build a website
Your website can range from a single page to a multi-page ecommerce store. Some businesses start out with just a Facebook page, but it's better to have at least a basic, one-page website. It takes time to build traffic to a website and rank in search results. So the sooner you make one, the better.
How do you make a website?
You can use one of the many DIY website builders, hire a freelancer, or use an agency. The complexity of the website and features you need, along with your budget, will help decide which route to go. A decade ago, you'd have to learn extra skills to build your own site. But now for a few dollars a month, you can have a beautiful site up and running in a few hours with a website builder. Here are a couple different types of websites:
Basic website: Many businesses only need a website with a handful of pages. You can even put it all on a single page to start out. At a minimum, you should plan on having info about your services, a short bio, and contact details like your location and hours.
Ecommerce store: If you sell products and services, you'll need a site that is fast and has features like payment, cart, and checkout.
Website resources
9. Think about workload and hiring staff
By this point, you hopefully know whether you need help to start out. If you don't need a team, that's okay. If you do, here are a few different things to consider:
List out jobs: Figure out which positions you need to fill and write a description for each. Be sure to include the duties and skill sets you're looking for.
Benefits and insurance: Candidates will want to know what benefits you offer and employers are usually required to get workers' compensation insurance.
Post job openings: Place your job openings on sites like Indeed and LinkedIn.
Interviewing: Before interviewing candidates, come up with a list of questions to find out how they'll fit in with other staff and customers. Review their work history and use a background check service to look for any red flags.
Payroll: You'll need an efficient and reliable way to pay employees and handle taxes.
Hiring and staff resources
Indeed: You can post detailed job openings, create a profile for your business, and even search millions of resumes.
Upwork: Freelance marketplace that connects you with contractors all over the world. They have a large talent pool, from developers and IT professionals to designers and writers.
---