Number of ChatGPT Users and Key Stats (2023)

Dave Ver Meer · Updated: November 6, 2023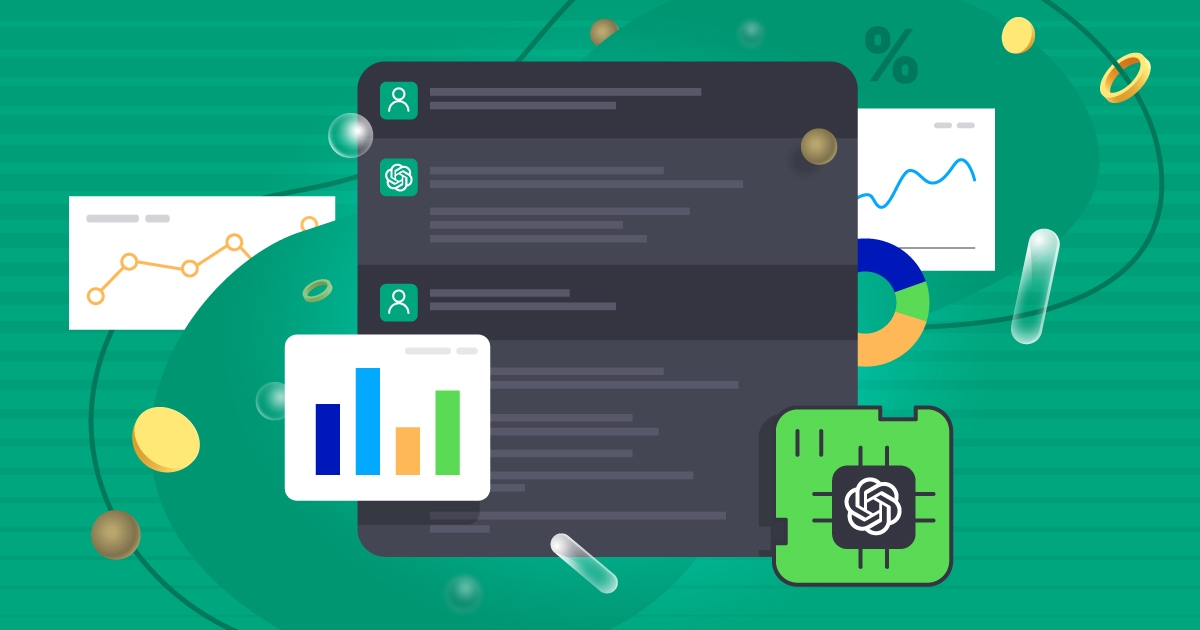 OpenAI's ChatGPT has forever altered the direction of technology and how we work. It seems like every day there's a new report or exam that ChatGPT has taken, often with impressive results.
In fact, it reached 100 million users in just 60 days, setting a record that has now been broken by Threads.
In this article, we'll explore all the latest statistics you'd want to know about, including the number of users, details from recent studies, growth, and estimated revenue.
Let's dive into the stats.
ChatGPT has over 180 million users
ChatGPT has over 180 million users. Its user count grew from 100 million in January to 180 million as of August. That's an 80% jump in user count over an eight-month period.
The ChatGPT website received 1.6 billion website visitors in June, which is down from its peak of 1.8 billion earlier this year.
Top ChatGPT stats
According to the latest data, ChatGPT has over 180 million monthly users.

ChatGPT launched in November 2023 and took just 5 days to add 1 million users, setting a record that has now been broken by Threads, Meta's new Twitter rival.

The ChatGPT iOS app has been downloaded 5 million times worldwide, with 1.5 million of those being from the U.S. alone.

OpenAI's revenue recently crossed $1.3 billion on an annual basis, which means that they're now raking in over $100 million per month. That's a 30% increase from numbers released in late summer.

Over 92% of Fortune 500 companies are using OpenAI's platform, and over 2 million developers are using its APIs.

It costs an estimated $700,000 per day to run and operate ChatGPT, with the cost per query being around $0.36 cents.

58% of U.S. adults are familiar with ChatGPT, though not many have actually used it.

ChatGPT website traffic dropped almost 10%, going from 1.8 billion monthly website visitors in May to 1.6 billion in June.

67% of consumers say they would likely use ChatGPT instead of search engines like Google.

47% of Americans say they've used ChatGPT for stock recommendations.

ChatGPT makes workers 37% more efficient by decreasing the time needed to complete a task and increasing the quality of work.
Sources: Reuters1, SemiAnalysis, Forbes Advisor, CNBC, Maginative, Reuters2, Ars Technica
How many users does ChatGPT have?
According to the latest data, ChatGPT has over 180 million users. It took ChatGPT just 5 days to add 1 million to its user base after launching. The ChatGPT website currently gets 1.6 billion visitors a month.
For some perspective, it took Facebook 10 months to reach 1 million users. Netflix took the longest of all, taking around 3.5 years to get to 1 million users.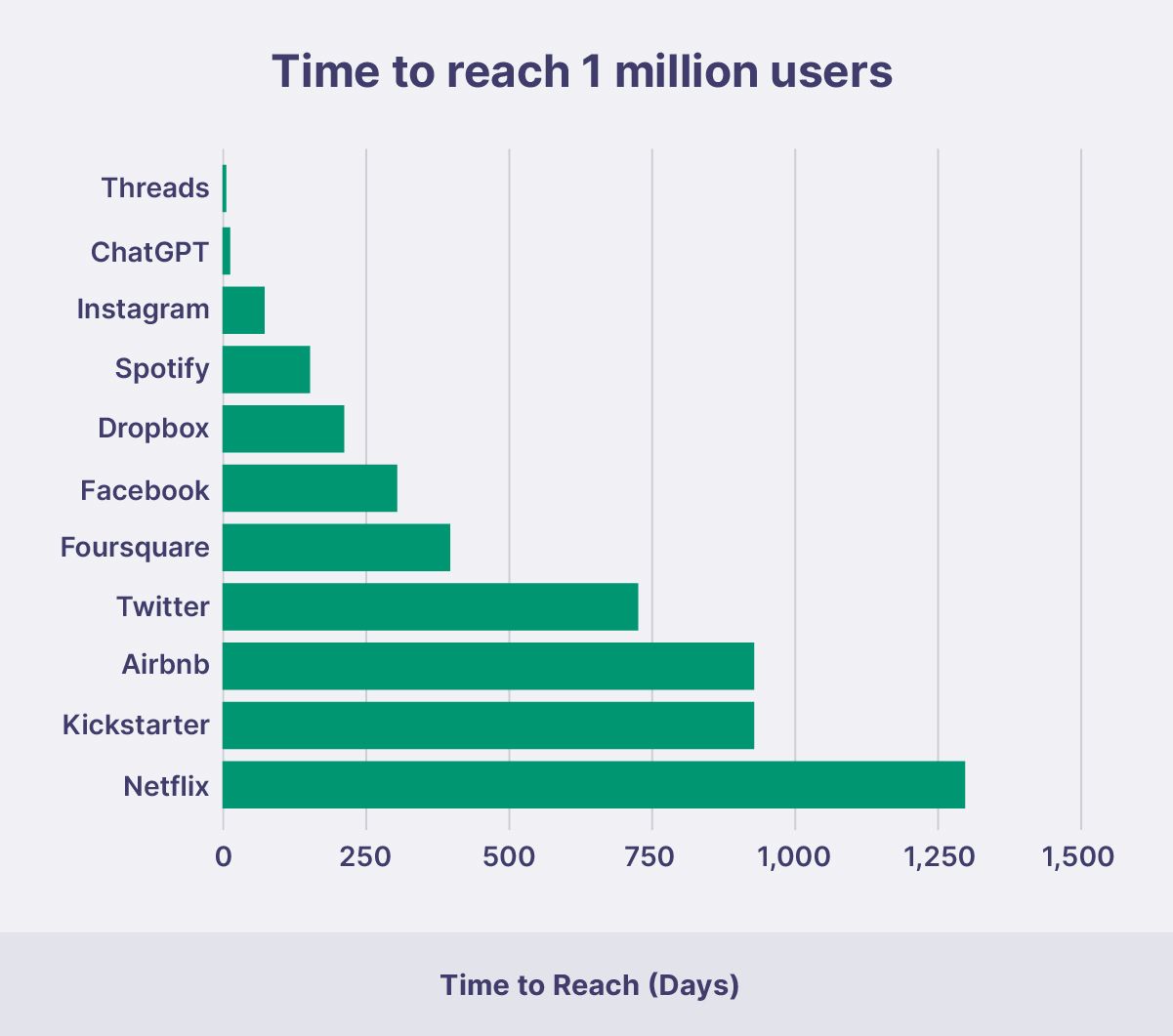 Here are the exact numbers for how long it took different companies to reach the 1 million user mark.
| Company | Year Launched | Time to Reach 1 Million Users |
| --- | --- | --- |
| Threads | 2023 | Less than 2 hours |
| ChatGPT | 2022 | 5 days |
| Instagram*** | 2010 | 2.5 months |
| Spotify | 2008 | 5 months |
| Dropbox | 2008 | 7 months |
| Facebook | 2004 | 10 months |
| Foursquare*** | 2009 | 13 months |
| Twitter | 2006 | 2 years |
| Airbnb** | 2008 | 2.5 years |
| Kickstarter* | 2009 | 2.5 years |
| Netflix | 1999 | 3.5 years |
*1 million backers **1 million nights booked ***1 million downloads
Source: Statista
Overview
| | |
| --- | --- |
| Parent Company | OpenAI |
| Headquarters | Pioneer Building, San Francisco, California |
| Founders | Sam Altman (CEO), Elon Musk (Co-founder OpenAI), Carlos Virella, Greg Brockman, Ilya Sutskever, John Schulman, and Wojciech Zaremba |
| Owned By | OpenAI owns and develops ChatGPT |
| Funded By | Microsoft is OpenAI's largest investor. Other notable investors include Khosla Ventures and Infosys |
| Release Date | The initial launch of ChatGPT was on November 30, 2022. GPT-4 was released on March 13, 2023, and GPT-4 Turbo was released on November 6, 2023 |
| Number of Users | 180 million as of August 2023 (Reached 1 million users 5 days after launch) |
| Daily Active Users (DAU) | 13 million active users visited ChatGPT per day as of January 2023 |
| Website Traffic | 1.6 billion (June 2023) |
| Versions | Versions since the initial launch are GPT 3.5 (free), GPT-4 (premium), and GPT-4 Turbo |
| Training Data Size | 570GB (300 billion words) |
| Model Parameters | 175 billion (GPT-3), 1.7 trillion (GPT-4, estimated) |
| Current Knowledge Limit | The knowledge cutoff for GPT 3.5 and GPT-4 is September 2021. GPT-4 Turbo is the most up-to-date, with a knowledge cutoff of April 2023 |
| Technology Used | GPT-3.5 (free version), paid users get access to the latest GPT-4 version |
| Cost to Run (Daily) | $700,000 per day (estimate) |
| Cost per Query | $0.36 cents (estimate) |
| Cost for Users | Basic version is free. $20/mo for ChatGPT Plus |
| Estimated Revenue | $200 million in 2023, $1.3 billion in 2024 |
| Valuation | $29 billion (current) |
ChatGPT stats
With ChatGPT fast becoming a must-have tool for growing businesses and saving time, it's not surprising that an entire industry of supporting and competing chatbots is developing around it, seemingly overnight.
It's highly likely that most, if not all, industries will be touched by AI in some way.
When ChatGPT was added to Microsoft's Bing, it saw a 15% uptick in daily traffic.

OpenAI recently released the iOS version of ChatGPT. It immediately shot to the top spot on the Apple App Store, ranking #1 in both the Productivity and Top Free Apps categories. OpenAI has confirmed that the Android version is coming soon.

ChatGPT has been trained on 570GB of data (300 billion words), largely based on the Common Crawl dataset, Wikipedia, and books.

According to a study, ChatGPT use doubled in the workplace every month throughout the first quarter of 2023,

80% of Americans who use ChatGPT for therapy advice think that it's effective.

GPT-3.5 has 175 billion parameters, while GPT-4 clocks in at 1 trillion parameters.

Research shows that when ChatGPT responded to different medical questions it was able to score 21% higher than physicians, based on the quality of the response. Further, almost half of the responses were judged to be empathetic (45%) vs less than 5% of the physician's responses.

Almost a third of U.S. travelers (32%) say they are likely to use ChatGPT to plan their next trip.

97% of business owners believe that ChatGPT will help their business in some way.

On theory of mind (ToM) tasks, ChatGPT-3.5 was able to solve 92% of tasks, matching the level of a 9-year-old child.

Researchers found that ChatGPT tends to reuse jokes, as 90% of its answers included the same 25 jokes during a test.

Earlier this year, Microsoft announced a $10 billion investment in OpenAI, on top of $3 billion in prior investments. Separately, VC firms including Sequoia Capital, Andreessen Horowitz, and Tiger Global have collectively invested around $300 million.

In a recently published study, participants underestimated the effect that ChatGPT's inconsistent advice had on their judgment when presented with a moral dilemma. 80% said they would have made the same judgment without ChatGPT, but researchers found that ChatGPT still influenced their decisions.
Sources: Similarweb, Longwoods International, Tebra, CNN, Forbes, ZDNET, TechCrunch, Scientific Reports, OpenAI, HR News, Ars Technica
User stats
A survey of business owners found that 44% plan to use ChatGPT to translate content to other languages, and one in three plan to use it for writing content.

Customer support agents at a Fortune 500 company were 14% more productive when they were able to use ChatGPT, with gains being even more significant for lower-performing agents.

ChatGPT gets 1.6 billion monthly website visitors each month.

61.52% of visitors to OpenAI's website are male and 38.48% are female. Those ranging in age from 25-34 years old (34.57%), make up the largest share of visitors.

57% of business owners believe that ChatGPT will increase traffic to their websites, and 47% think it will improve their credibility.
Sources: Forbes, Gizmodo, CBS News, Similarweb
App stats
The ChatGPT iOS app racked up 697,000 downloads in the first 8 days following its release. In a little over two weeks, the app reached 5 million downloads worldwide, and 1.5 million of those were from the U.S.

ChatGPT is trailing the top app, Ask AI, which has around 9 million downloads.
But, Ask AI also had a 2-month head start and OpenAI hasn't even released an Android version yet, so it likely won't be long before ChatGPT is the most popular generative AI app.
OpenAI hasn't set a release date for the Android app, other than to say it'll happen "soon."
Awareness stats
According to the Pew Research Center, 58% of U.S. adults have heard something about ChatGPT. Of those, 18% have heard a lot, 39% have heard some, and 42% have heard nothing.
Here's a detailed look at their findings: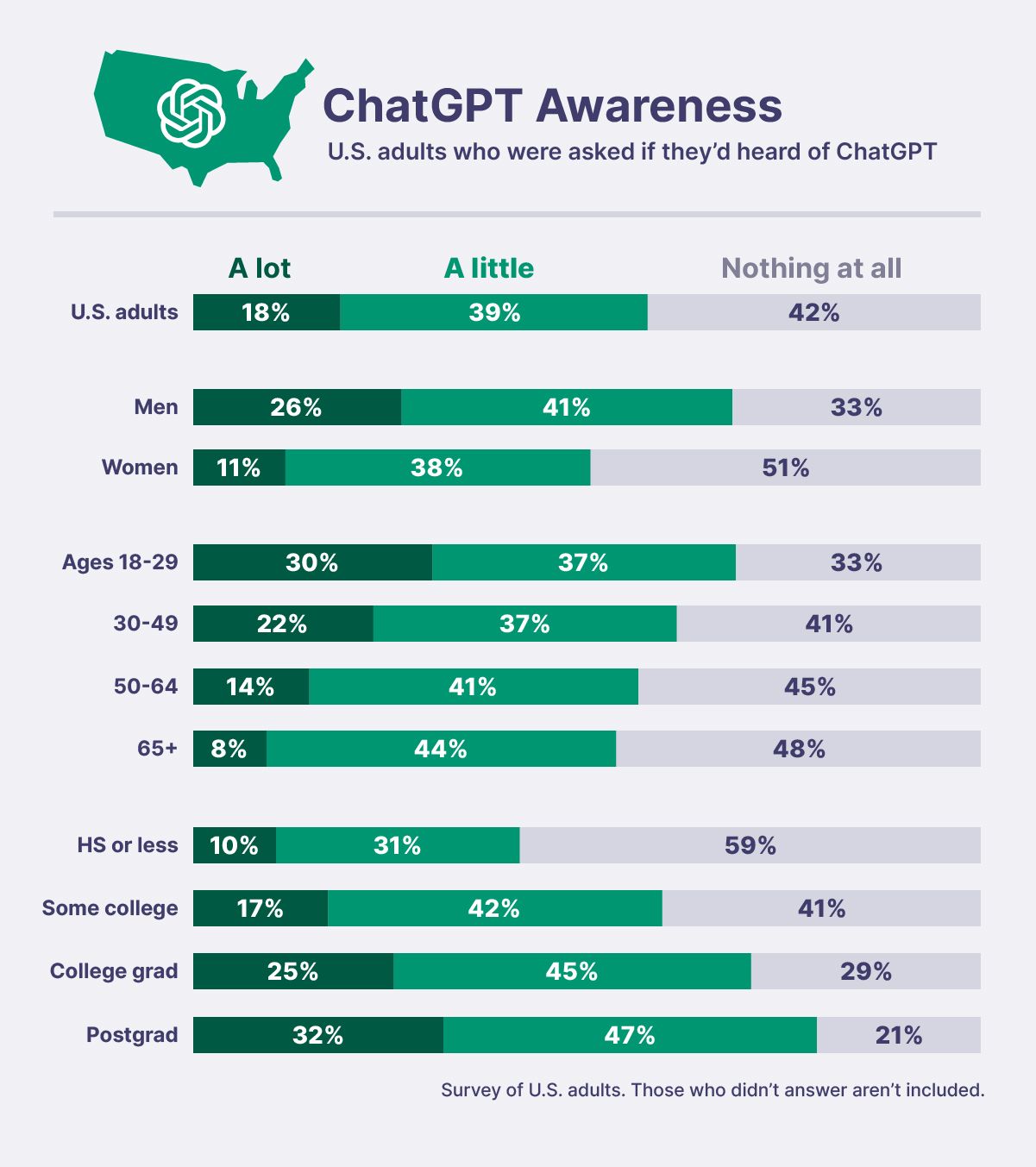 Source: Pew Research Center
Traffic stats
The ChatGPT website received 1.6 billion website visitors in June, 1.8 billion in May and April, 1.6 billion in March, and 1 billion in February.
Visitors to ChatGPT view an average of 4.26 pages per visit.

Each visitor spends an average 7 minutes and 27 seconds on the website.

The top two browsing interests for visitors are "news" and "software", and the top two categories are "programming and developer software" and "computers, electronics, and technology".
Social media traffic
60.43% of traffic is from YouTube, making it the largest source of ChatGPT's social network traffic. Put another way, 6 in 10 visits are from YouTube.
Here's a detailed breakdown of the other top social networks that send traffic.
| Rank | Social Network | Traffic Share |
| --- | --- | --- |
| 1 | Youtube | 60.43% |
| 2 | WhatsApp | 11.31% |
| 3 | Facebook | 8.7% |
| 4 | Twitter | 4.88% |
| 5 | LinkedIn | 3.28% |
| - | Others | 11.4% |
Top marketing channels
Direct visits (93.73%) make up the vast majority of ChatGPT's traffic. Referrals are the second largest source of traffic, making up 4.01%.
| Rank | Channel | Traffic Share |
| --- | --- | --- |
| 1 | Direct | 93.73% |
| 2 | Referrals | 4.01% |
| 3 | Organic Search | 0.89% |
| 4 | Social | 0.84% |
| 5 | Mail | 0.52% |
| 6 | Display | 0.01% |
| 7 | Paid Search | <0.01% |
Source: Similarweb
Country stats
At 12.12%, the U.S. makes up the largest share of users visiting the ChatGPT website (chat.openai.com).

Second and third place go to India (7.61%) and Japan (4.17%).
| Rank | Country | Traffic Share |
| --- | --- | --- |
| 1 | U.S. | 12.12% |
| 2 | India | 7.61% |
| 3 | Japan | 4.17% |
| 4 | Brazil | 3.32% |
| 5 | Colombia | 3.16% |
| - | Others | 69.62% |
Source: Similarweb
ChatGPT is currently banned in 6 countries:
Russia
China
North Korea
Cuba
Iran
Syria
Investing stats
ChatGPT is increasingly being looked at as a source of valuable stock advice.
In fact, a new research paper revealed that it can analyze the sentiment of news headlines to help it predict stock market moves and returns.
According to The Motley Fool, 47% of Americans have used ChatGPT for stock advice and picks.
The survey also looked at generational differences, finding that over half of millennials (53%) and 50% of Gen Z have used ChatGPT for stock tips. Only 25% of baby boomers have used ChatGPT for stock recommendations.
Here's a detailed breakdown of use by age group:
| Age Group | Used ChatGPT for Stock Advice |
| --- | --- |
| Millennials | 53% |
| Gen Z | 50% |
| Gen X | 46% |
| Baby boomers | 25% |
| Overall | 47% |
They also found that the use of ChatGPT for investment advice changes based on income level, with low-income Americans (23%) being much less likely to use it than high-income (77%).
| Income Level | Used ChatGPT for Stock Advice |
| --- | --- |
| High income | 77% |
| Middle income | 43% |
| Low income | 23% |
| Declined to say | 36% |
| Overall | 47% |
Note: Income brackets used are: Low income ($0-$49,999) · Middle income ($50,000-$99,999) · High income ($100,000 and above)
69% of Americans would consider using ChatGPT for stock advice at some point. At 48%, baby boomers are the least likely to consider using it in the future.

55% of men have used ChatGPT for stock picks compared to 42% of women.

55% of Americans say they wouldn't want to rely only on ChatGPT for stock recommendations.
Sources: The Motley Fool, Business Insider
Exam stats
GPT-4 took the bar exam and earned a score that puts it in the 90th percentile of test takers.

According to a recent study from Brigham Young University, ChatGPT flunked an accounting exam, scoring just 47.4%, while students had an average score of 76.7%.

GPT-4 took the Law School Admission Test (LSAT) and managed to score in the 88th percentile.

ChatGPT outscored humans on a ob-gyn specialist exam, averaging 77.2%, while humans averaged 73.7%.

When GPT-4 took the SAT, it scored a 1410 on it, putting it in the 94th percentile. For comparison, the average score for the SAT is 1060.

A study found that ChatGPT performed slightly better than humans on a genetics test, with ChatGPT having an accuracy of 68.2% and humans being 66.6% accurate.
Sources: ABA Journal, Business Insider, The Washington Post, BYU, GenomeWeb, AJOG
Education stats
Over 40% of university students say they use ChatGPT for their coursework. 39% of prospective students say they wouldn't consider going to a college that banned ChatGPT and other AI.

The majority of K-12 teachers (51%) report using ChatGPT, while 22% of students, ages 12-17, say they use it every week.

Half of college students (51%) believe that using AI tools like ChatGPT for coursework and exams is cheating.

26% of teachers caught their student cheating by using ChatGPT and 43% think it will make their jobs harder.

1 in 3 college students (30%) say they've used ChatGPT to complete written assignments.

68% of students think ChatGPT can help make them better students, and 75% think it will help them learn faster.
Sources: Walton Family Foundation, Forbes, Study.com, Intelligent
Plugins
With the launch of plugins, ChatGPT can leave its sandbox and connect to the outside world. This lets ChatGPT talk with other apps, browse websites, and extend its capabilities.
In fact, OpenAI announced that they are rolling out access to ChatGPT Plus users soon, which will give them access to two official plugins and 70+ third-party ones.
Here's an overview of what they're capable of.
Browsing plugin
The browsing plugin lets users tell ChatGPT to go out and complete tasks with info. Users could also ask ChatGPT to summarize and analyze a website or single page for them. It also frees ChatGPT from its trained knowledge limit, which is September 2021.
Code interpreter plugin
The code interpreter builds on ChatGPT's existing ability to write code by giving it access to a selection of libraries. It also lets ChatGPT understand, debug, and explain code in a variety of languages. Users can also build on previous work as the code is persisted for the length of the chat.
The use cases OpenAI has found where it's most useful are:
Solving mathematical problems, both quantitative and qualitative
Doing data analysis and visualization
Converting files between formats
Third-party plugins
Besides the plugins offered directly by OpenAI, developers and companies can also create their own third-party plugins. Plugins from Expedia, Instacart, Shopify, and Zapier are among the first ones already available.
OpenAI's documentation mentions some use case examples of what they can do:
Retrieve real-time information; e.g., sports scores, stock prices, the latest news, etc.
Retrieve knowledge-base information; e.g., company docs, personal notes, etc.
Perform actions on behalf of the user; e.g., booking a flight, ordering food, etc.
Who owns ChatGPT?
OpenAI, the AI research and development company, owns and operates ChatGPT. OpenAI has its headquarters in San Francisco, California, and was founded by Sam Altman (CEO), Elon Musk (Co-founder OpenAI), Carlos Virella, Greg Brockman, Ilya Sutskever, John Schulman, and Wojciech Zaremba.
Microsoft doesn't own it, though its partnership with and $13 billion investment into OpenAI gives it considerable influence. Other investors include Khosla Ventures, Infosys, Thrive Capital, and Andreessen Horowitz.
How much data was ChatGPT trained on?
ChatGPT uses a model that was trained on 570GB of data (300 billion words), mostly on data crawled from the internet, Wikipedia, and books.
GPT-3.5 has 175 billion parameters, which pales in comparison to the 1.7 trillion parameters GPT-4 has.
Parameters are settings that give fine-grained control over the content in AI responses, including the tone, style, and creativity.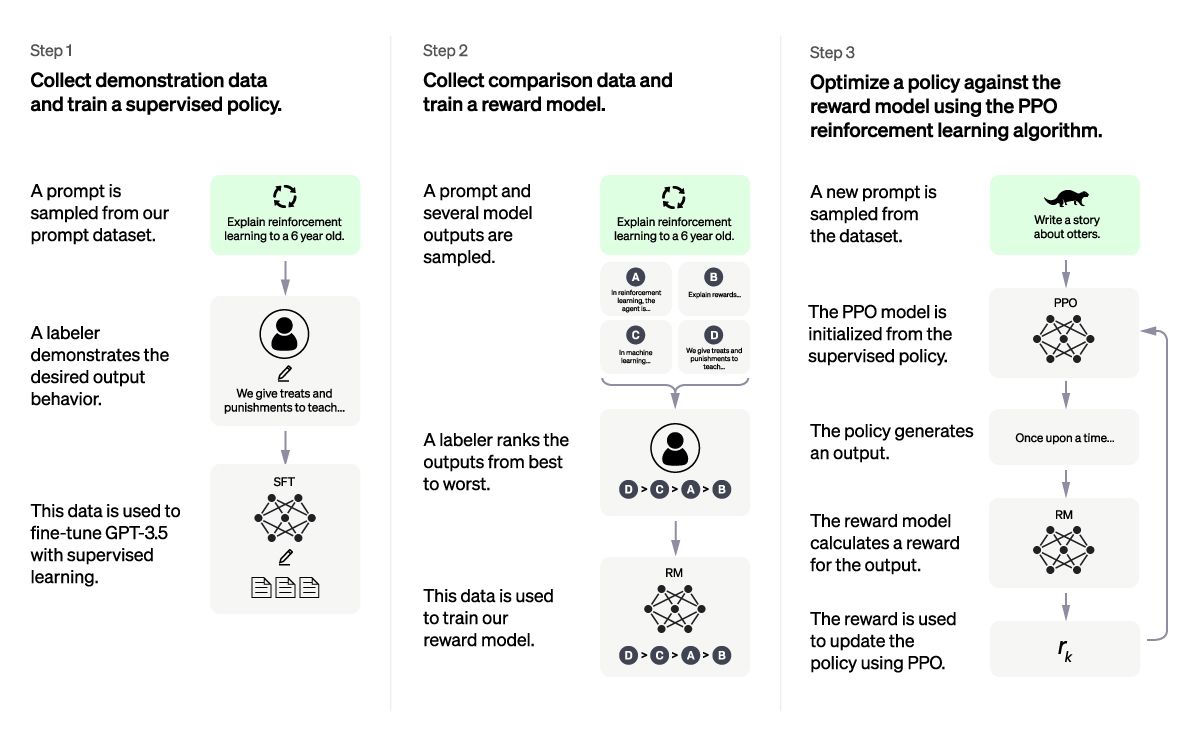 What does GPT stand for in ChatGPT?
GPT stands for Generative Pre-trained Transformer. They belong to a group of large language models (LLMs) that can create convincingly human-like text responses. The user first provides a single prompt or a series of them, and ChatGPT responds based on what it learned through being trained on large, publicly available datasets.
Let's explore that more by breaking down each part in GPT.
Generative is the ability of AI to create different types of content, including text, images, audio, and data. In the case of ChatGPT, it focuses on generating text, for now.

Pre-trained means that the AI uses a model that is the result of being trained on a large volume of data. Generally speaking, the more data it's trained on, the better the quality of responses, though it takes longer and costs more.

A transformer is a type of neural network that can understand relationships between the data it has access to by breaking it down into smaller pieces that it can analyze. In the case of ChatGPT, this allows you to carry on a conversation with it and have it carry out tasks for you.
What is a ChatGPT prompt?
A ChatGPT prompt is the input and instruction you provide to tell ChatGPT what you want it to do. It could involve a question, a series of instructions, or providing it with content and background details to help it better understand your intent.
Popular prompt techniques include giving detailed, step-by-step instructions, "few shot" prompts where ChatGPT is shown examples of what it should do, and role-playing, where you give ChatGPT a role, providing it with extra context to understand the question better.
If you want to learn more, Snack Prompt is a community where users share their best prompts, and Learn Prompting provides free guides about how to communicate with ChatGPT.
How long does ChatGPT stay at capacity?
ChatGPT can reach capacity when there's a heavy load on its servers, caused by many users prompting it at the same time. If you're getting the "at capacity" message, give ChatGPT a cool-down period by waiting a few minutes before trying again.
Sometimes, you might have to wait a half hour or more. You also have the option to subscribe to ChatGPT Plus if you want your requests to have priority, even during peak times.
How many questions can you ask ChatGPT in an hour?
On average, you can ask ChatGPT 60 questions in an hour. This is assuming that it takes 30 seconds to ask a question and you get the response back within 30 seconds.
Here are a few different factors that affect how many questions you can ask:
Prompt Quality: If your question is unclear or vague, you'll spend extra time clarifying to ChatGPT what you're asking it to do.

Question Type: A factual, straightforward question is easier for ChatGPT to answer, while an open-ended question that needs a longer response will take longer.

Length and Difficulty: If your question requires a series of follow-up questions or requires complex research, ChatGPT might take longer to respond.
Does ChatGPT have a word limit?
According to OpenAI, ChatGPT-3.5 has a limit of 3,000 words, while ChatGPT-4 is reported to respond with up to 25,000 words and have better accuracy.
Since ChatGPT can remember your chat history, you may be able to get around that limit by splitting it into a series of questions and responses. For example, if you're asking it to write an article for you, ChatGPT could deliver it to you one section at a time.
Does ChatGPT save data?
When first released, ChatGPT always saved the responses and history of its users as a conversation thread. This makes it capable of carrying on complex conversations, completing a series of tasks, and lets you fine-tune its responses.
Recently though, OpenAI rolled out a new feature that lets you disable your chat history by changing a setting. This gives you control over what conversations OpenAI can use to train its models and more privacy.
What jobs will ChatGPT replace?
According to a working paper released by OpenAI earlier this year, certain types of jobs are more "exposed" to ChatGPT than others. They analyzed the labor market and predict that jobs like cooks, athletes, and stonemasons have the least exposure, while jobs like tax preparers, translators, and proofreaders have high exposure.
Specifically, they looked at what percentage of a job and its tasks could benefit from and have the potential to be automated partially or completely by ChatGPT.
Keep in mind that when new technology like ChatGPT reshapes industries, it has the capacity to create new jobs, either directly or indirectly.
In fact, prompt engineers are already becoming a sought-after commodity and earn up to six-figure salaries. They specialize in knowing how to communicate with and get the most out of AIs.
Wrapping up
That's it for my roundup of ChatGPT statistics.
The stat that stood out the most to me is that 67% of consumers say they would likely use ChatGPT instead of search engines. But with search engines rushing to integrate ChatGPT-like chatbots into their experience, it'll be interesting to see how that dynamic plays out.
Developments with ChatGPT and AI continue to happen with rapid-fire, breakneck speed. And they have the potential to impact most industries.
In fact, Sam Altman (CEO of OpenAI) has been quoted as saying, "I do think it will touch almost everything", in an interview about ChatGPT.
If you want to stay up-to-date on all the latest ChatGPT stats, continue to check back here.