How Many Users Does Bluesky Have? 28+ Bluesky Stats (2023)

Dave Ver Meer · Updated: November 26, 2023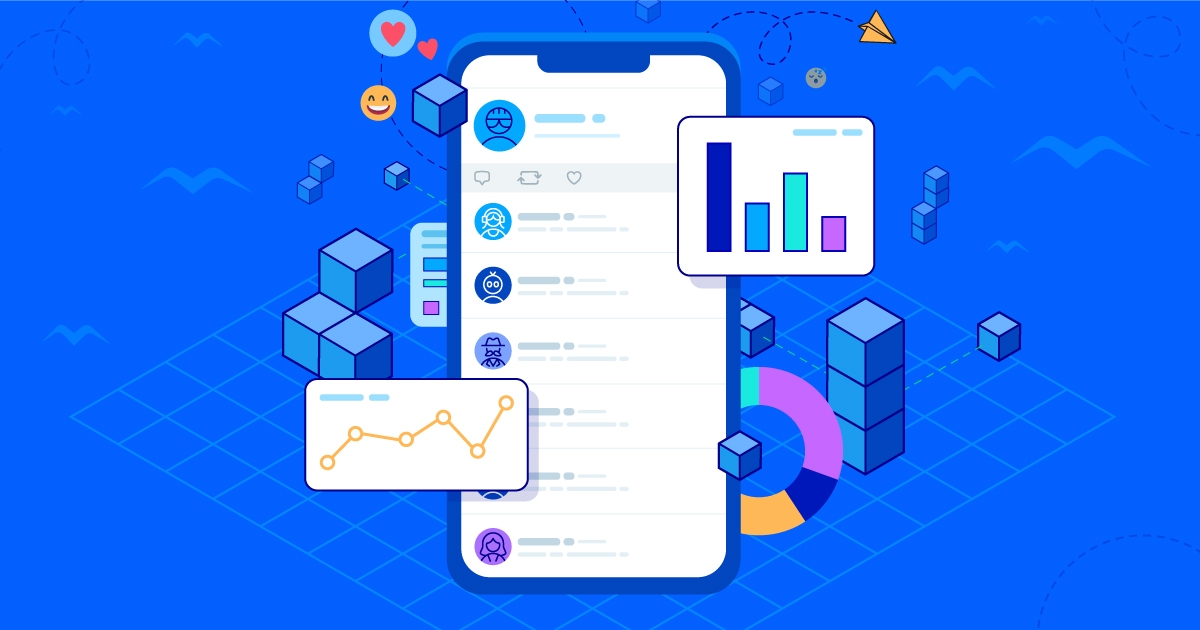 Bluesky, one of the options in the flock of X (Twitter) alternatives, has seen a surge in interest over the past months.
In fact, Bluesky currently has over 2.2 million users, and the waitlist has ballooned to over 1.9 million people.
But now the X clone wars are really heating up, with Threads holding steady at just under 100 million users.
In this article, we'll explore all the latest statistics and facts you'd want to know about, including the number of users, app downloads, and traffic.
Contents
Top Bluesky statistics
According to data from Bluesky's API, it currently has over 2.2 million users.

Bluesky user registrations jumped over 200% after the announcement by Elon Musk that X may start charging all users a monthly subscription fee. They went from 17,000 to just over 53,000 registrations on September 19, the day after the announcement.

In early July, about 4 months after launching, the Bluesky app reached 1 million installs. 40% of installs are from the U.S. alone.

Bluesky has raised a total of $21 million in funding, most recently raising $8 million from a seed round.

Users have created a total of over 94 million posts on Bluesky.

In June, the number of visitors to Blueskyweb.xyz dropped sharply to 619,000. But in July it bounced back almost to its peak, with 1.8 million visits. That's an increase of 190%.

As of early May, the Bluesky app was ranked #9 in the social networking category on the Apple App Store, a significant jump from being ranked at #170 in mid-April.

The largest age group of visitors to Bluesky's website is 25-34 year olds.
Sources: The New Yorker, CNBC, Similarweb1, Similarweb2, Ars Technica, Twexit, Bluesky, TechCrunch
How many users does Bluesky have?
Bluesky currently has over 2.2 million users and over 1.9 million people on its waitlist. There's also pent-up demand and interest shown by the fact that the app has been downloaded 1 million times.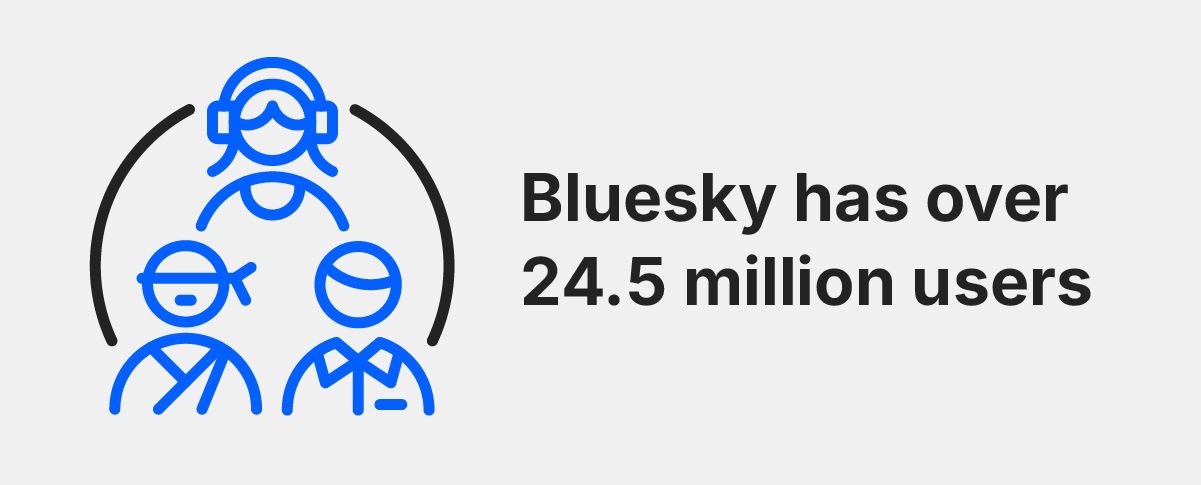 Since the launch of its beta in 2022, Bluesky has steadily grown its user base, giving access to the beta in waves.
Overview
| | |
| --- | --- |
| Headquarters | Seattle, Washington |
| Founders | Jack Dorsey |
| Owned by | Bluesky Public Benefit C Corp (Not owned by X, though formerly incubated within Twitter) |
| Leadership | Jack Dorsey (Founder), Jay Graber (CEO) |
| Funding | Seed round ($8 million), Twitter ($13 million), Jack Dorsey (Series A) |
| Released | Beta in Mid-2022, currently invite-only |
| Number of users | 2.2 million users |
| Technology | AT Protocol (decentralized) |
Bluesky traffic stats
According to Similarweb, blueskyweb.xyz had a surge in traffic earlier this year, topping out at 2 million in April. However, by July the number of visitors dropped sharply to 682,000.
With 646 million visits in August, the visitor count was slightly down from July.
Each visitor views an average 1.66 pages and spends an average of 42 seconds on the site. 37.09% of visits are direct and the second biggest traffic contributor is from organic search (32.66%).
Here's a breakdown of the top marketing channels that drive traffic to Bluesky.
| Rank | Marketing Channel | Traffic Share |
| --- | --- | --- |
| 1 | Direct | 37.09% |
| 2 | Organic Search | 32.66% |
| 3 | Referrals | 24.83% |
| 4 | Social | 5.42% |
| 5 | Mail, Paid Search, and Display | 0% |
Source: Similarweb
Bluesky visitor stats
The US was the largest contributor to Bluesky's website traffic in April, clocking in at 32.3%. In other words, about 3 in 10 visits are from the US.

Germany comes in second place with 6.1%, followed by Japan (5.09%).
Here's a breakdown of Bluesky visitors by region:
| Rank | Country | Traffic |
| --- | --- | --- |
| 1 | US | 32.3% |
| 2 | Germany | 6.1% |
| 3 | Japan | 5.09% |
| 4 | Brazil | 4.5% |
| 5 | Spain | 4.28% |
| - | Others | 47.73% |
Source: Similarweb
Bluesky demographic stats
The makeup of visitors to Bluesky's website is 36.18% female and 63.82% male. The largest age group is 18-24 year olds (34.42%), followed by 25-34 year olds (29.52%).
Combined, 18-34 year olds make up over half (63.94%) of the traffic.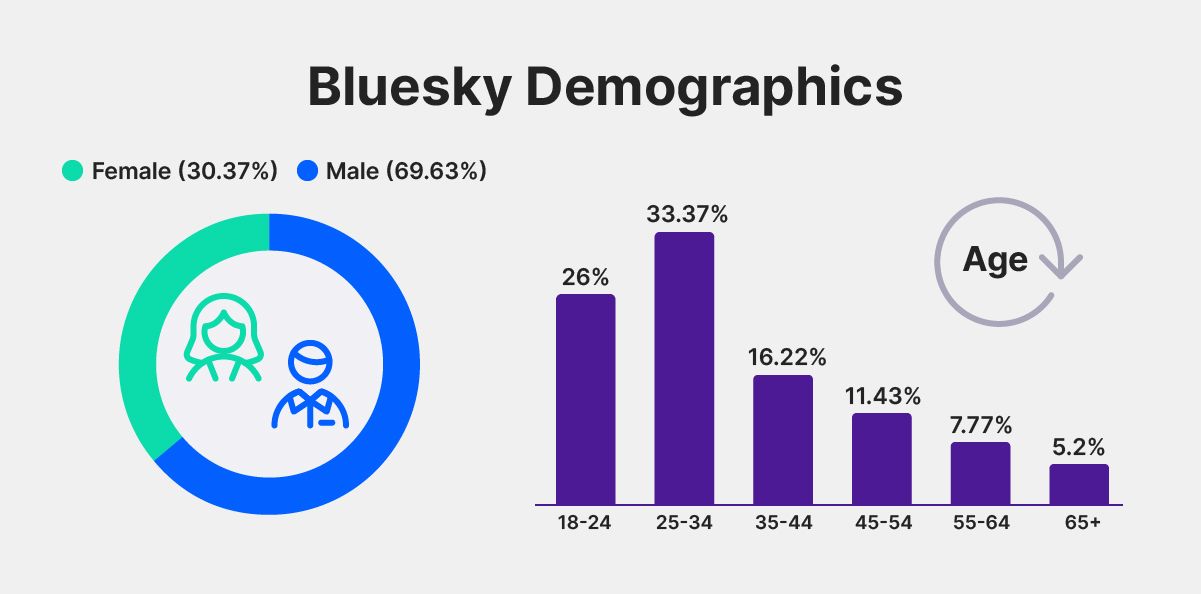 Source: Similarweb
Bluesky facts
Bluesky's first third-party app, Graysky, will launch on the App Store on October 21. It'll have features that are missing in Bluesky, like support for GIFs, viewing people's likes, a feed layout, and hashtag support.

Big names such as Alexandria Ocasio-Cortez, Chrissy Teigen, and prominent journalists have joined.

Bluesky is built on the AT Protocol, an open-source technology that allows users to move between hosts without losing their data and identity.

Invite codes for Bluesky are in such high demand that they've been showing up on eBay, with completed auctions showing them listed at prices between $200 and $395.

Bluesky recently launched their Android app, which has ranked high up in Google Play download charts for the US, UK, and Japan.

Posts on Bluesky are best known as "skeets" (a combo of "sky" and "tweet"), even though company leaders have pleaded with users to call them something else.

Bluesky announced that they won't be allowing heads of state to take part in the beta test.

Bluesky features domains as handles as an added trust signal. For example, the president of the US could have the handle, "@potus.whitehouse.gov".

According to Jay Graber, CEO of Bluesky, the company's vision is to have a "marketplace of algorithms" where users can tweak and select the types of content that show up in their feed. Currently in the beta app, there's just one feed called "What's Hot."

Flipboard, a social magazine app, has become the first tech company to integrate with Bluesky by allowing its users to browse posts directly from Bluesky.
Sources: Vox, Fast Company, Bloomberg, Fortune, Bluesky, TechCrunch1, Engadget, TechCrunch2
What is Bluesky?
Bluesky is a decentralized, social network that is considered a front-runner as an alternative to X (formerly Twitter). It lets you post 300-character posts and replies. You can also repost and share photos. According to the CEO, Jay Graber, it's "a very simple microblogging format to show how Twitter could have been built" using its open protocol.
You can also search for people, mute, and block accounts. As far as posts go, you can reply, repost, and like them.
One notable, unique feature is the ability to claim a more authoritative and trustworthy handle using a domain you already own. So if you own "yourdomain.com", you could go through a verification process and have the handle "@yourdomain.com".
How do I get invited to Bluesky?
To get Bluesky, you need to download the app and use an invite code to join. You can get an invite code by signing up for the waitlist or seeing if you know anyone already on Bluesky that has one to spare. Keep in mind that the waitlist already has over 1.9 million people on it.
Who owns Bluesky?
Bluesky is owned by Bluesky PBLLC (Public Benefit LLC), which was formed in late 2021. Bluesky split off from Twitter (now X) in early 2022. Around that time, Twitter also invested $13 million in Bluesky. Some confusion about the ownership comes from the fact that Bluesky started out as part of Twitter.
In a recent Tweet, Jay Graber (CEO) went out of his way to clarify the ownership status, by stating, "I think it's worth re-iterating here that Jack is on our board but Jack does not own us." He went on further to say, "Twitter does not own us."
Who started Bluesky?
Bluesky was started as a project by Twitter founder Jack Dorsey to realize his vision of an open, decentralized platform. One where users would have the choice to take their profile and social graph to move to another platform. It later split off into its own company in early 2022, and its current CEO is Jay Graber.
Why has Bluesky become popular?
Since Elon Musk bought Twitter, he's made a series of changes aimed at removing restrictions around speech and having to pay for verification, which have prompted users to leave and seek out alternatives. Bluesky users have described it as a refreshing change, with fewer people who are mean and more that have fun.
Bluesky recently doubled the number of users who have access and high-profile figures like Alexandria Ocasio-Cortez, Chrissy Teigen, and James Gunn have joined the platform.
Is Bluesky open-source?
Bluesky uses the AT Protocol, an open-source technology pioneered by Bluesky that allows users to move between hosts without losing their data and identity. Recently, Bluesky's app codebase was made open-source so that others can improve and build on top of it.
When will Bluesky launch?
A specific date hasn't been announced yet, but the app has been in beta testing since mid-2022 with a relatively small group of users. Reviews of the app have described it as being a fun and refreshing experience, though its features are still "bare-bones" at the moment.
Wrapping up
Waves of users have been jumping ship from Twitter since it was acquired by Musk, and that trend is only continuing to escalate so far, especially after the rebrand to X.
If X doesn't fix its self-sabotaging behavior, it'll continue to leave the door open for competitors.
Time will tell if Bluesky can capitalize on the opportunity and continue to build a thriving, positive social community in the long run.