Threads User Count: Latest Numbers & Records Broken

Dave Ver Meer · Updated: August 3, 2023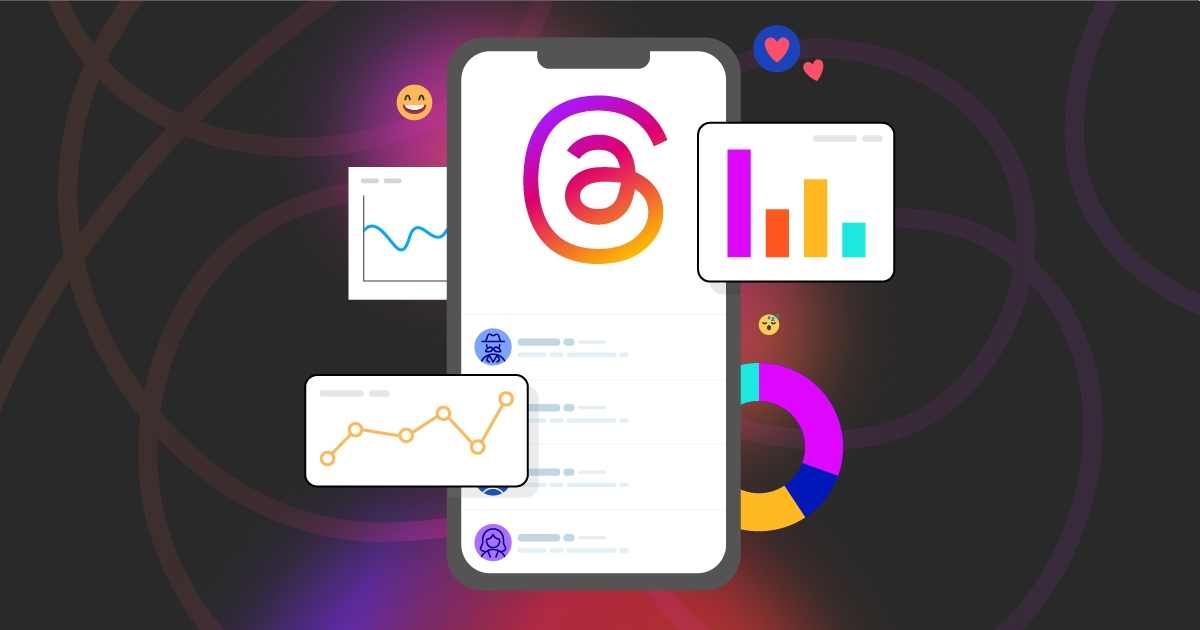 Threads, the new Twitter rival from Meta, has seen its user count grow at a record-breaking pace over the first few days and currently has over 105 million users.
By comparison, it took 5 days after launch before ChatGPT had just 1 million users.
And so far, there's no sign of Threads pumping the brakes on sign-ups like Bluesky has done.
In this roundup, we'll explore all the latest statistics and facts you'd want to know about, including the number of users and growth.
Threads Smashes Records 🎉
It's official, Threads has broken both ChatGPT records. Threads now holds the record for the fastest-growing app, reaching 1 million users in less than 2 hours. And it soared to 100 million users in only 5 days, beating ChatGPT's time of 60 days.
Threads has a user count of over 105 million
Threads recently flew past 100 million users, a fact that Mark Zuckerberg was quick to share in a post on Threads. After that, the number of users grew steadily to over 105 million as of July 11*.
*On July 11, Meta removed the user account numbers from Instagram profiles. Since those were being used to track the user growth of Threads, any updated numbers we see going forward will likely be estimates or ones disclosed by Meta.
Threads' growth has started to level off over the past couple of days and was averaging 4-6 million new users per day as of July 11.
We'll likely see more surges in the future as Zuckerberg mentioned in his post that they have yet to start promoting Threads and that the demand so far has been organic.
Threads stats
Threads now holds the record for being the fastest app to reach 100 million active users by hitting that mark in only 5 days. It took ChatGPT 60 days to do the same.

On the first day of launch, Threads reached 1 million active users within 2 hours and beat ChatGPT's record of 5 days, making it the fastest app to reach 1 million active users.

According to Mark Zuckerberg, Threads added over 30 million users in less than 24 hours after launch. That works out to at least an average rate of 1.25 million sign-ups per hour.

During the first day, user growth on Threads exploded, reaching 2 million users after 2 hours, 5 million users after 4 hours, and 10 million after 7 hours.

Data shows that Threads is suffering from a pullback in usage, with the daily active user count dropping 82% to 8 million. And engagement time per user has dropped from 20 minutes per day to just 2.9 minutes as of August 1.

Based on data from Sensor Tower, Threads' daily active user count is dropping at a rate of about 1% per day.

At its peak on July 7, Threads had more than 49 million daily active users on Android. That number dropped significantly to 23.6 million by July 14.

One day after launching, Threads was already the #1 free app on the Apple App Store and also a top trending topic on Twitter.

The Threads app for iOS and Android is available in 100 countries and 30+ languages.
Sources: CNN1, Bloomberg, The Verge, Threads, The Guardian, TechCrunch, The Street, Similarweb, CNN2
Threads facts
Matthew Prince, the CEO of Cloudflare, shared data showing that Twitter traffic started tanking during the first few days after Threads' launch.

Big brands like Billboard, HBO, NPR, HGTV, and Netflix didn't waste any time and already had accounts set up a few minutes after the launch.

At 500 characters, the post length limit on Threads is longer than the 280 for most Twitter users.

Meta is planning on making Threads compatible with ActivityPub, a technology that lets users move their data between social networks.

Meta has been able to attract big names such as Jennifer Lopez, Mark Cuban, Shakira, Gordon Ramsay, and Seth Curry to join Threads.

The Threads app isn't available yet in the European Union, due to details that still need to be worked out for data sharing between Threads an Instagram.
Sources: The Guardian, Bloomberg, CNBC
Threads is the fastest app to reach 1 million and 100 million users
Threads is now the fastest-growing app in history, leaving ChatGPT in second place.
Early on the 5th day after launch, its user count topped 100 million, which equals a stunning 25% of the roughly 400 million users Twitter has.
Specifically, it reached 1 million users in less than 2 hours, compared to 5 days for ChatGPT. And it reached 100 million in 5 days, beating ChatGPT's time of 60 days.
Put another way: in the same time that ChatGPT reached 1 million users, Threads crossed the 100 million mark.
Now, to be fair, since Instagram is required to use Threads and it has a built-in audience of over 2 billion users, Threads has a huge advantage when it comes to user growth.
Here's a closer look comparing the time to reach 1 million: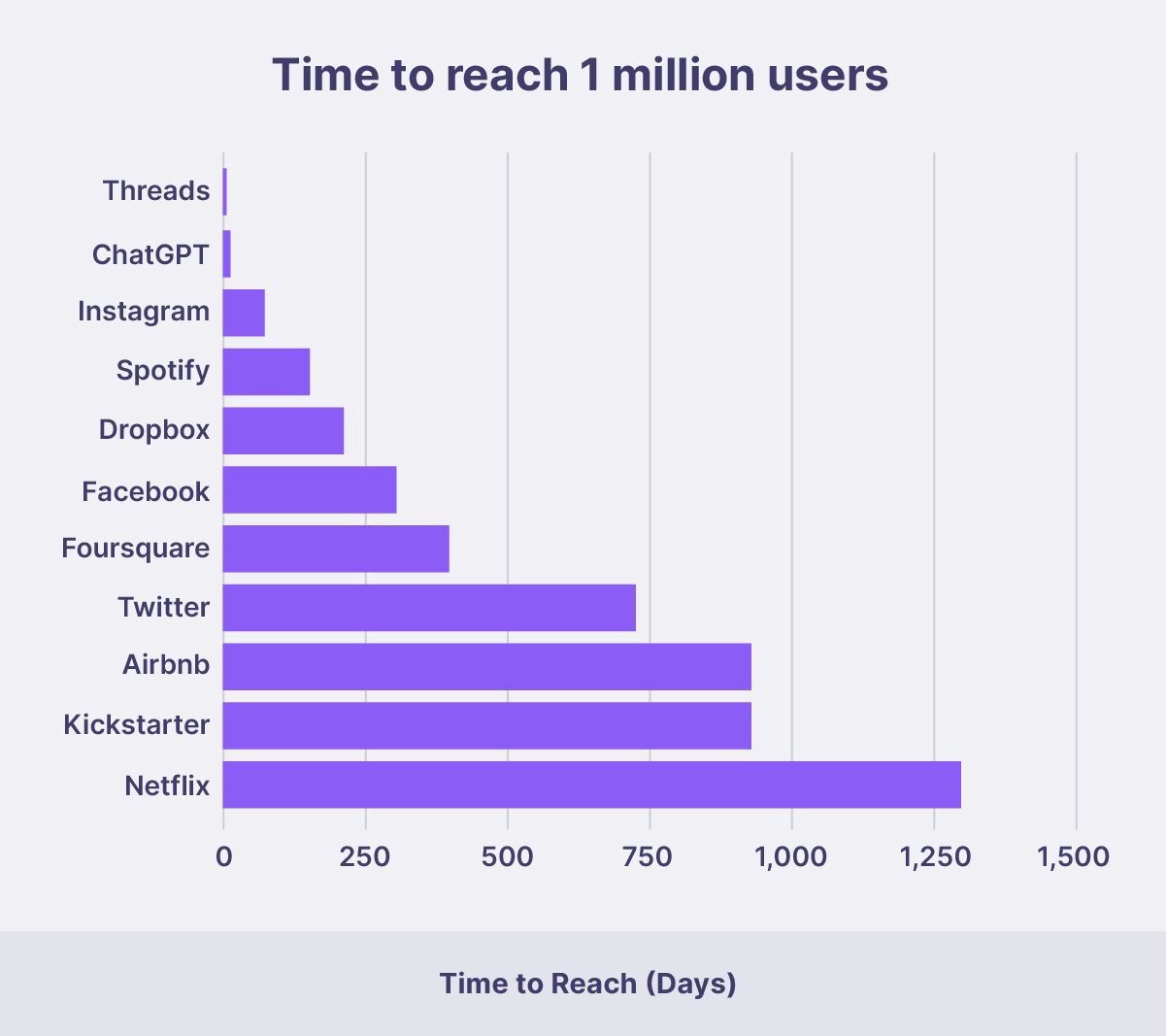 And here are the exact numbers for how long it took different companies to reach 1 million users.
| Company | Year Launched | Time to Reach 1 Million Users |
| --- | --- | --- |
| Threads | 2023 | Less than 2 hours |
| ChatGPT | 2022 | 5 days |
| Instagram*** | 2010 | 2.5 months |
| Spotify | 2008 | 5 months |
| Dropbox | 2008 | 7 months |
| Facebook | 2004 | 10 months |
| Foursquare*** | 2009 | 13 months |
| Twitter | 2006 | 2 years |
| Airbnb** | 2008 | 2.5 years |
| Kickstarter* | 2009 | 2.5 years |
| Netflix | 1999 | 3.5 years |
*1 million backers **1 million nights booked ***1 million downloads
Source: Statista
How many users are on Threads?
Based on the number badges shown on Instagram profiles, Threads currently has over 105 million users. The number of users on Threads grew quickly over the first day after launch, reaching 2 million users after 2 hours, 5 million users after 4 hours, 10 million after 7 hours, and 30 million in less than 24 hours.
What's the difference between Threads and Twitter?
The main difference between Threads and Twitter is features, or the lack thereof in Threads. Threads has the same basic features that Twitter has, and users are able to post, repost, and like posts. Notable features that Threads is missing include a following feed, trending topics, hashtags, and the ability to edit posts.
Threads and Twitter are similar in design and feel, which isn't an accident as Meta has a track record of copying competing apps.
Can you sign up for Threads without Instagram?
You can't sign up for Threads without Instagram. If you already have an Instagram account, you'll need to download Threads, sign in with your Instagram account, and then go through a couple of quick steps to create your profile. If you don't have an Instagram account, you'll need to first download Instagram and create an account.
One thing to note is you can't delete your Threads account without also deleting your Instagram account. But you can deactivate your Threads account and still keep Instagram.
How is Threads different from Instagram?
While an Instagram account is required to use it, Threads itself is a separate app. Threads is a text-based conversation app and a place to get real-time updates on current events. Like on Instagram, posts on Threads can include images and videos, but those aren't the main ways users communicate on it.
Is Threads replacing Twitter?
There's no question that Threads poses a serious threat to Twitter's fading dominance. What is in question is whether the 100+ million users will stick around and stay engaged with the new platform over time. Of all the Twitter rivals, Threads has the most users by far and is currently best positioned to replace Twitter in the long run.
Wrapping up
In its first day, Threads has had the kind of user growth that most startups can only dream of.
With over 2 billion users on Instagram and having signed up over 105 million users already, Threads is in a unique position to keep up the momentum and post even more user gains in users over the following weeks.
In fact, in a Threads post, Mark Zuckerberg said that:
It'll take some time, but I think there should be a public conversations app with 1 billion+ people on it. Twitter has had the opportunity do this but hasn't nailed it. Hopefully we will.
The question in my mind is whether Threads can hold onto its users when there's already a flock of Twitter alternatives to chose from.
And how quickly it can add new features since it lacks some much-loved Twitter features like direct messaging and hashtags.
We'll have to wait and see.