35 Must-Know Nail Salon Stats and Trends

Dave Ver Meer · August 5, 2022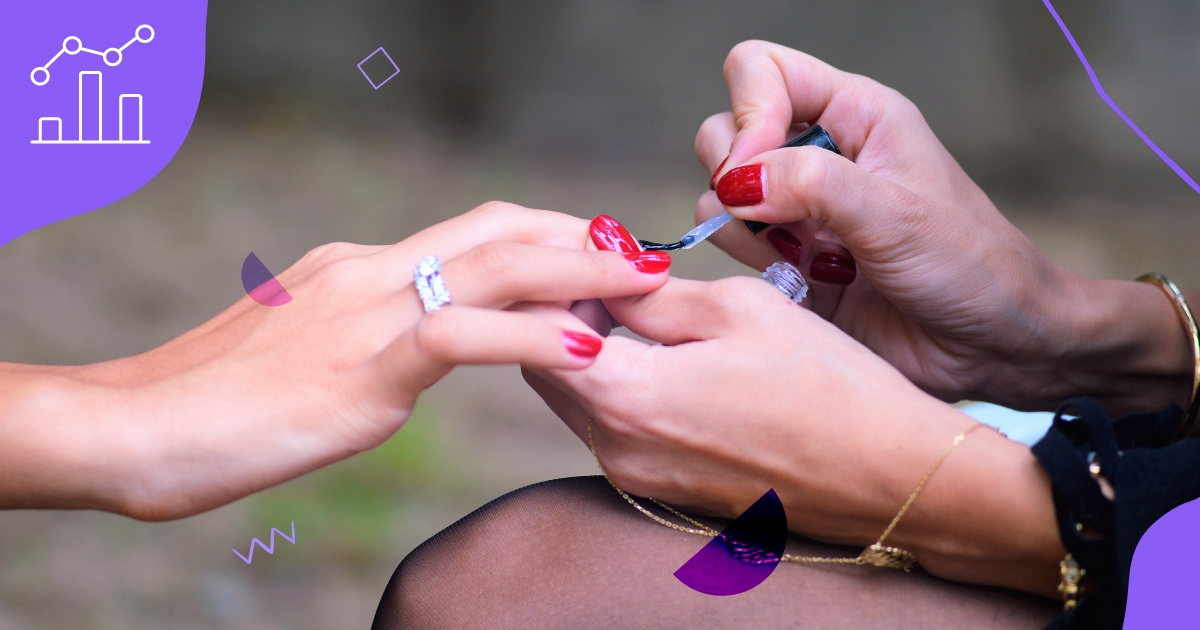 Did you know that before nail care became popular in the 1970s, manicurists were seen as being "gossipmongers"?
Manicures were also so expensive that only the wealthy could afford them.
Since then, growth in the nail salon industry has exploded due to demand, the development of new products, and how affordable nail services have become.
In fact, a manicure now costs just $22 on average and a basic pedicure is $35.
In this roundup, you'll find statistics, facts, and trends covering:
Let's get started:
Top Stats (Editor Picks)
Some nail salons have been trying to appeal to men by using masculine advertising, going so far as to sell beer and turn their space into a "man cave". (UCLA)

As part of the gig economy, a recent trend has nail salons offering on-demand services where clients order through apps and nail techs will come to where they are. (UCLA)
27% of nail salons report that their busiest day of the week is Thursday, followed by 25% who say it's Saturday. At 2%, Sunday has the lowest number reporting it as their busiest day. (Nails Magazine2)
The social channel that nail salons use most is Instagram, with 68% saying they have an account. Facebook comes in a close second at 64%. (Nails Magazine2)

57% of clients say the most important factor in choosing a nail salon is cleanliness. 50% value how convenient the location is to where they live or work. Only 9% chose a nail salon based on good online reviews. (Nails Magazine2)
When considering English speaking, 54% of nail salon workers are proficient, 40% don't speak it well, and 6% don't speak it at all. (UCLA)
Of all U.S. states, Georgia has the highest average wage for nail techs at $20.29 per hour. (Indeed)
Industry and Product
The nail salon industry has a low, 3% unemployment rate. 72% of nail salon techs work full-time. (UCLA)
Developments in nail polish technology are driving new trends. Some new nail trends include gel polish, nail art, and dip systems. (UCLA)
The top two services offered by nail salons are manicures (88%) and hard gels (85%). The least popular service is tanning (6%). (Nails Magazine1)
46% of nail salons offer retail nail care products to their clientele. (Nails Magazine1)
The most expensive service nail salons offer is full set gels, costing $51 on average. The least expensive service offered is a manicure, costing $22 on average. (Nails Magazine1)
Some of the most popular words used in nail salon names include "polish", "touch", "shine", and "studio".
Historically, nail salons have been "mom and pop" operations, but more recently large chains have entered the market. (UCLA)
As of 2018, there were 395,658 nail techs, which was down 10% from 2017. (Nails Magazine2)
Revenue and Sales
The nail salon industry has grown steadily with double-digit growth from 2014 to 2019. By 2019, the total value of the industry clocked in at $8 billion. After experiencing a sharp downturn during the pandemic, the value was estimated at $6.5 billion. (Market Research)
Nationwide, in 2019, a typical nail salon was estimated to gross $287,000, with a profit margin of 17%. For nail salons that are part of a franchise, the average increases up to $575,000. (Market Research)
For their average total weekly income, 24% of nail salon professionals report making more than $750. 15% report making $150 or less. (Nails Magazine1)
Workforce and Demographics
At 81%, women make up the vast majority of nail techs. (UCLA)
30% of nail techs are self-employed, which is three times higher than the national average. (UCLA)
At 52%, the largest segment of nail salon workers report having over 12 years of experience. Another 10% say they have 3-4 years of experience, while a combined 16% have 2 or less years of experience. (Nails Magazine1)
44% of nail salon workers live in four states: California, Texas, Florida, and New York. California has the most with 16% and Texas comes in second with 11%. (UCLA)
28% of nail salon professionals work as a nail technician (booth renter), while 21% are salon owners who also do nails. Only 4% describe themselves as a salon owner who doesn't do nails. (Nails Magazine1)
When reporting how many hours they work on average, 21% say they work 36-40 hours. 8% report working more than 50 hours. (Nails Magazine1)
61% of nail salon workers have at least one child and 34% are the head of their households. (UCLA)
At 18%, the largest age group of nail salon workers is 41-45 years old. Just 2% are 25 and younger. (Nails Magazine1)
76% of nail salon workers say they provide all their own supplies, including tools. (Nails Magazine2)
71% of nail salon workers have health insurance coverage. (UCLA)
Almost 8 out of 10 nail salon workers earn low wages (as defined by being two-thirds of the median full-time wage). Which is considerably higher than the 33% national rate for workers in all industries. (UCLA)
Operations
Most nail salons have a smaller operation, with 9 out of 10 having fewer than 10 employees. (UCLA)
Social media plays a large role in marketing and sales for nail salons. On Pinterest and Instagram, nail art is in the top five most tagged items. (UCLA)
The average monthly booth rent for a nail tech is $522. At 22%, the largest percentage of them report paying $301-400. (Nails Magazine1)
When asked what their two biggest challenges are, 24% of nail salon professionals said their biggest challenge is building and keeping clientele. 23% said it's competition and too many discount salons, while 19% feel that it's keeping up with their social media. (Nails Magazine1)
30% of nail salons spend $100-200 per month on supplies, while only 4% spend $400 or more. (Nails Magazine1)
64% of nail salons charge for nail art, 14% don't, and 2% rarely do. (Nails Magazine2)
Sources: Nails Magazine1, Nails Magazine2, UCLA, Market Research, Indeed
How much money do nail techs make a day?
Nail techs make an average of $133.60 per day in the U.S. This is based on the national average salary of $34,736 for nail techs and a work week of 40 hours. Nail techs make the most in Georgia, averaging $162.32 per day.
Source: Indeed
Is owning a nail salon profitable?
Yes, owning a nail salon can be profitable. A nail salon owner makes an average salary ranging between $40,000 to $75,000 a year. This will vary from state to state and depend on how well they run their salon.
Source: The Salon Business
Where do nail techs make the most money?
The state with the highest average salary for nail techs in the U.S is Georgia, at $42,203. Other high paying states include Oregon ($41,912), Vermont ($37,960), and Maine ($37,689). Some ways nail techs can make more include upselling and offering mobile nail services.
Conclusion
What stood out to me is the fact that nail salons are targeting men to diversify and grow their clientele. Marketing to men with beer and manly surroundings is nothing new, but I'm curious to find out whether that works and how many find nail care appealing.
It's also encouraging to see nail salons innovating by offering on-demand mobile services to their clientele.